The workflow of the future
be compared to the BIM model to verify that all components are installed in the correct locations. With the development of object recognition, the scan also can verify that the correct components have been installed. So, now, a quadcopter with a laser scanner can do quality assurance and feed data for the pay application on a daily basis. In addition, robotics can work 24 hours a day, seven days a week, allowing for a huge jump in productivity.
3-D Printing
Today, a small desktop 3-D printer can cost less than $3,000. In most cases, these are novelty items for printing small models or trinkets. But, the potential of 3-D printing is limitless. The University of Southern California is now prototyping 3-D printing of full-height concrete walls. This process reads the wall layout from a BIM model, requiring no formwork and no stripping of forms. Plus, the process works regardless of the shape of the wall. Imagine 3-D printing of countertops, exterior enclosure components and even door hardware.
3-D printing could dramatically minimize shipping of bulk materials to the site and reduce on-site storage, because materials are printed as needed. Future jobsites could have on-site 3-D printing stations that could reduce material waste handling. With materials printed as needed, no packaging or shipping crates would be required, and businesses could save huge amounts of fuel that would otherwise be consumed when moving materials to the site. This technology could result in combined savings in every step of the process.
Looking Toward the Future
With the implementation of all this technology, what will happen to tradesmen? Even with all of these technologies, construction jobs will require just as many tradespeople.
The difference is that the skill sets of these individuals will be dramatically different, having more to do with programing, robotics management and data management. The industry will still need skilled tradesmen to complete the work, but their skill sets will be more technology-based.
If we improve the jobsite and make it more efficient with robotics and quadcopters, what will happen to the business aspect of the construction process?
If firms can fully integrate with BIM, the efficiency of business operations will improve. BIM will become the source of truth for contractors. It will verify the quantities in bids from subcontractors, help solve problems through clash detection and coordination, and provide opportunities for prefabrication and modularization.
The daily laser scans will feed into an automated pay application process, and the quadcopter will fly through buildings, scanning the progress of construction and allowing information to be submitted to an automated pay application process. Payment to the contractor will become weekly or daily. The cash flow for the contractor will completely shift, and the profit margins will improve by simply improving cash flow.
Every piece of technology that has been described here exists today. These technological systems may not be fully developed, but all of these future applications are possible and have the ability to completely change the construction process.
In order for these technologies to transform the industry, we must maximize the full potential of BIM technology. We must figure out how to develop a complete BIM process that can flow to all stakeholders on a project—from the designer to the contractor to the facility operations team. When we can embrace the ability to share BIM, we can begin to break the pattern of waste and inefficiency in our industry.
Printing the Jobsite: 3-D Printing Technology Could Take Efficiency and Safety to a New Level
We may be far from walking up to a replicator like Picard did in Star Trek to order an "Earl Grey, hot," but advancements in 3-D printing are proving that technology is on its way to making science fiction a reality.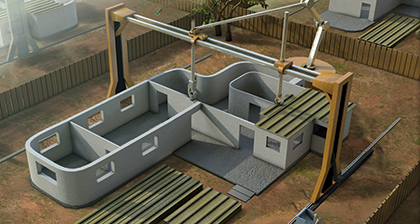 Whether it's printing a spare screwdriver or an iPhone mount for a GoPro base, consumer products such as the Makerbot Replicator 2X give us the ability to create plastic objects from 3-D models on a small scale. On the next level, engineering, architecture and construction research consulting firms are experimenting with materials other than plastic that would be more useful to structural printing, such as steel, ceramics and even hardened resin. From steel nodes to one-bedroom concrete houses, 3-D printing is happening around the world and will continue to get better at building bigger—and more safely.
The ultimate vision for commercial construction, as I see it, is a combination of several of the most advanced technologies in development, with 3-D printing being the final step. Starting with something as simple as a tablet, contractors will visit a jobsite and use a 3-D laser scanner to map the existing structure or environment. Using 5-D building information modeling (BIM), a model of the proposed project can be built with time and cost incorporated for project owners to see the full scope of a project—both monetarily and visually. After fully coordinating the models and running them through clash detection, all project participants can readily access these models through 3-D model rendering mobile applications in augmented reality (AR) and virtual reality (VR) for construction planning and progress. Finally, to-scale 3-D printers will print not only construction materials but entire structures on-site.
While it is not yet cost-effective nor widely available at the needed scale, 3-D printing will change how we build. It's up to us to implement the technology that ensures how we build will change for the better.
Pages