A quality product that performs the way you expect it to—that's ultimately what you're looking for in a compact loader or excavator. Whether digging, pushing, lifting or a combination of all three, you want to know that the performance of the next machine you choose will make the transition from a manufacturer's literature or website to your jobsite. The best way to ensure you'll get what you expect is to demo the machine to experience firsthand how it fits your operating style and performs in your unique application.
Define Performance
Those seeking to purchase a new piece of equipment commonly evaluate a compact machine based on specifications such as horsepower (hp), breakout force or operating weight; however, those parameters don't illustrate the full picture of how a machine will actually perform in the dirt.
Consider this hypothetical comparison of compact track loaders from two of the industry's well-known brands. One loader is 92 hp, and the other loader features a 110-hp engine. Assessing a loader by horsepower alone, you would probably conclude that the 110-hp machine will have higher performance. However, while the 92-hp machine is designed with less horsepower than the other brand, it is 1,200 pounds lighter, its rated operating capacity is 220 pounds higher, and it is approved for use with a larger bucket.
Consider the potential productivity loss that could occur if you selected the 110-hp machine instead of the 92-hp machine based solely on horsepower without evaluating its performance in your application. Furthermore, how do you define performance? Is it a loader's ability to lift? Is it pushing or grading power? Perhaps it's tractive effort.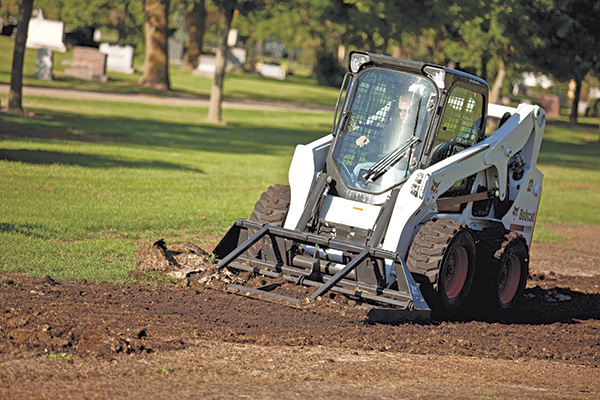 The Bobcat S650 has a cab design that offers improved visibility and operator-friendly features such as cab forward design with the optional pressurized cab, air-ride seats and seat-mounted joysticks.
You can ponder several more examples like this, but the whole point is that a single spec represents one attribute. It never represents the design efficiency of the entire machine or how well the machine's systems (e.g., engine, hydraulic system, controls, etc.) work together. You'll never know a machine's performance until you operate it.
Don't Buy Without a Demo
When you're shopping for a machine, specs and promotional materials can help jump-start your research and narrow down your choices, but making a significant purchasing decision based solely on a few numbers can be risky. Specs can be made to look good, and every manufacturer and salesperson is going to tell you that their offering is the best. However, the truest test is to demo a machine in your specific working conditions to make sure it performs to your expectations.
A demo is the only way to accurately gauge a machine's performance and many manufacturers incentivize their dealerships to conduct them, so you should not feel apprehensive to ask for one. You wouldn't purchase a car without a test drive, so you shouldn't miss the opportunity with your compact equipment. In fact, for a more authentic representation of capabilities, request that your demo be conducted on your jobsite or in your specific conditions, rather than on a dealership's lot. Perhaps you could even benefit from a rent-to-purchase arrangement to gain some substantial operation time before making your investment.
Another aspect of compact equipment is that it's changing. Mandated Tier 4 federal emissions standards are driving the development and use of new technologies that significantly reduce the harmful contaminants contained in diesel engine exhaust. Similarly, these changes can also increase performance in areas that aren't visible in a list of specifications. For example, one manufacturer's Tier 4 compact loaders will receive up to a 12 percent increase in engine torque but no increase in horsepower. These machines will provide more pushing and digging performance—a benefit you wouldn't notice in the specs but one you'll feel when operating the machine.
With the growth of online information sources that are available to today's equipment buyer, developing a false sense of performance for a particular piece of equipment and overlooking the intrinsic value of demonstrating a machine are easier than ever. You may be able to use a mix of promotional tools to get a better idea of the machine you want, but nothing compares to the insight you can gain from the operator's seat.
Challenge Old Assumptions
Although many specs are standardized by certified bodies such as International Standards Organization (ISO) and Society of Automotive Engineers (SAE), the testing procedures used to obtain the specs vary between manufacturers. Your satisfaction with a piece of equipment depends on your ability to decipher what the most important specs are for your operation and how they can impact your productivity and profitability.
If a spec seems too good to be true, it probably is. If you find a machine with specs that are significantly better than others, your best defense is to ask your dealer or the manufacturer how the specifications were established, because some specs may not accurately represent real working situations or the performance you will actually experience on your jobsites.
Properly evaluating a machine goes beyond looking at specifications. Performance is the result of how well all parts of the machine work together during the tasks you complete for your jobs. By using multiple specifications, you can begin to build a "paper perception" that can be further assessed during a demonstration.
Most operators know there is no substitute for demonstrating a compact loader or excavator in a real-world environment to see how the various systems collaborate. Once you determine what type of work the machine will perform, you need to make sure its systems and features align with those tasks. You may also need to ask more questions and challenge old assumptions to ensure you understand how a manufacturer's design impacts engine performance for pushing or grading dirt. Find out if the test the manufacturer used to calculate bucket breakout force for a spec represents your application. Sometimes the test is actually a scenario that you may never replicate in the real world.
What you